---
Upíři se učí od Vulkánců
Buffy the Vampire Slayer, Buffy - Přemožitelka upírů, seriál z r. 1997, pojednává o Buffy Summersové, 16-leté dívce, která chce žít normální život. Je pro ni ale nepříjemným faktem, že není prostě jen teenager, ale je také vyvolená. Vyvolená pro boj s upíry, který jako jediná na světě může vyhrát...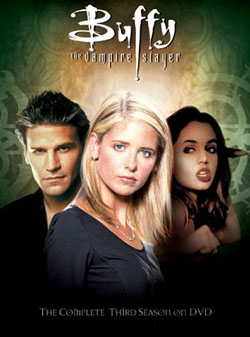 Ep. "Homecoming" (3. sez.)
"Děláte si srandu? Vulkánskej chvat smrti umím už od čtyř let."
"Are you kidding? I've been doing the Vulcan death grip since I was four."

Ep. "Flooded" (6. sez.)
"Tak budeme spolupracovat a převezmeme Sunnydale?"
"Fajn."
"Jasně, že si to pamatuju. Bylo to před měsícem."
"Tak víš, že máme poslání. Zmenšit paprsky, vycvičit gorily. Vypracovat model proudového letadla.
A kočky, kočky a kočky. Tohle jsou důvody, proč jsem se zapsal."
"Já taky. Nikoliv buď tak nebo nijak."
"Hlasujeme."
"Fajn. Kdo je pro nezabití Buffy?"
"Dohodnuto."
"A co uděláme s Mm'Fashinkem?"
"So... you guys wanna team up and take over Sunnydale?"
"Okay."
"Of course I remember. It was last month."
"Then you know we have a mission! Shrink rays... trained gorillas. Workable prototype jetpacks...
and chicks, chicks, chicks. I know that's the action I signed on for."
"Me too. Ixnay on the urder-may."
"Vote."
"Okay. Who's for not killing Buffy?"
"Agreed."
"So what are we gonna do about this Mm'Fashnik guy?"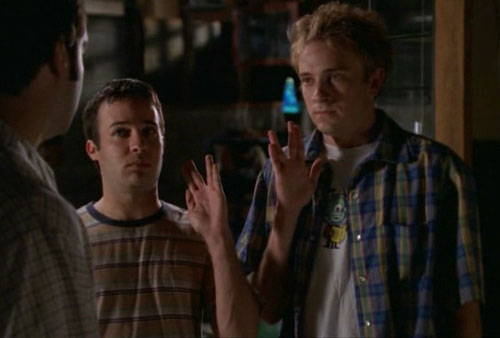 Ep. "Life Serial" (6. sez.)
"Myslím, že bych to pro vás mohla udělat."
"Chytrá. Už jí ta hra došla. Uspokojí zákazníka. Mohla by tě porazit, Stretchi."
"Kdepak. Ještě to ani nezačalo."
"Jen doufám, že to vyřeší rychlejc než Dat v epizodě TNG, když dokola vybuchovala Enterprise."
"Nebo Mulder, jak v Aktech-X nechal vybouchnout tu banku."
"Scullyová mě šíleně chce."
"Okay, I guess I'll have to get it for you."
"Smart. She's figuring out the game. Satisfy the customer. Well, she might just have you beat there, Stretch."
"No way. It hasn't even started yet."
"I just hope she solves it faster than Data did on the ep of TNG where the Enterprise kept blowing up."
"Or Mulder, in that X-Files where the bank kept exploding."
"Scully wants me so bad.?"

Ep. "Smashed" (6. sez.)
"Haló, říká se tomu klepání."
"Klep, klep, roboťáku. Potřebuju, aby ses kouknul na můj čip."
"To je britskej slang nebo něco? Protože my nejsme..."
"V mé hlavě, čip v mé hlavě."
"Momentálně máme něco rozdělanýho."
"Holodeck můžeš hrát jindy. Teď tu velím já."
"Jo a co budeš dělat, když budeme hrát svůj... Co? Počkej, co to děláš?"
"Prohlídneš můj čip! Jinak Mistr... Fett tady umře jako první."
"Hej, dobře, nechme, nechme těch šíleností."
"To je limitovaná edice, ročník 1979 Boba Fetta."
"Dobře, vole... zchladni."
"Hello! It's called knocking!"
"Knock, knock, robot boy. Need you to look at my chip."
"Is that British slang or something? Cos we're not..."
"In my head. The chip in my head."
"We're kind of in the middle of somethin'."
"You can play holodeck another time. Right now, I'm in charge."
"What are you gonna do if we don't especially feel like playing your...
Wait, what are you doing?"
"Examine my chip, or else Mr... Fett here is the first to die."
"Hey, all right. Let's not... let's not do anything crazy here."
"That's a limited edition, 1979 mint-condition Boba Fett."
"All right. Dude... chill."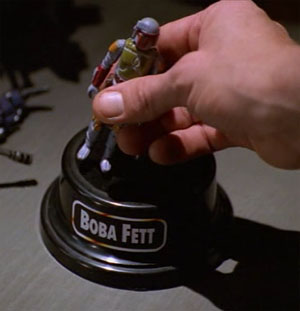 ---
Děkujeme: Tomovi
---