---
The Big Bang Theory (3. sezóna)
Americký sitcom The Big Bang Theory z r. 2007 přinesl svěží vítr do tématu soužití geeků a nerdů s "normálními" lidmi. Leonard a Sheldon jsou fyzici. Někdo by je označil za šprty, ale v dnešní době je přesnější označení "geek". Žijí ve svém vlastním světě a realný život jim nic neříká. To se změní příchodem jejich nové sousedky, krásné blondýny Penny, obyčejné holce, které je svět Leonarda a Sheldona úplně neznámý, což často, vlastně vždy, vyústí do zábavné situace...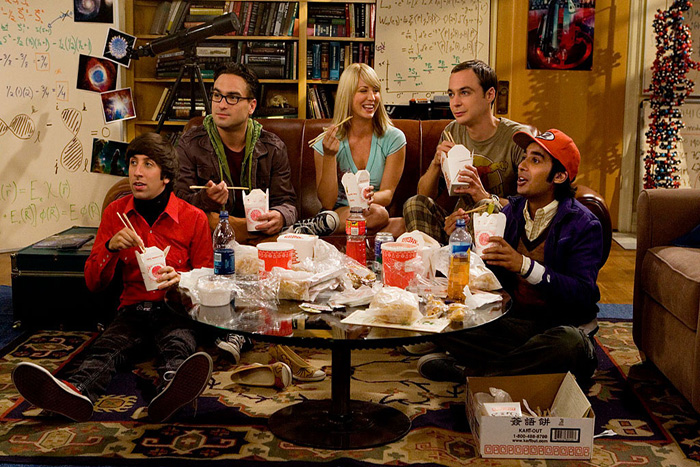 Ep. "The Electric Can Opener Fluctuation" (3. sez.)
Musíme mu to říct.
Říct mi co?
Ten jeho zatracený vulkánský sluch.
Plánujete pro mě večírek, že?

Nevydej ani zvuk.
Šeptání "Nevydej ani zvuk" je zvuk.
Ten jeho zatracený vulkánský sluch. Teď není vhodná chvíle, Sheldone!
We have to tell him.
Tell me what?
Damn his Vulcan hearing.
You fellows are planning a party for me, aren't you?

Do not make a sound.
Whispering, "Do not make a sound... " is a sound.
Damn his Vulcan hearing. Not a good time, Sheldon!
Dobrá, víš jaké to je? Pamatuješ si na tu scénu z nového Star Trek filmu, kde musí Kirk převzít velení nad lodí,
tak řekne Spockovi spoustu věcí, o kterých ví, že nejsou pravda, jako že Spocka nezajímalo, že jeho matka zemřela?
Zmeškal jsem Comic-Con a nový Star Trek film! :(((
You know what it's like? Remember that scene in the new Star Trek when Kirk has to take over the ship,
so he tells Spock all that stuff he knew wasn't true, like saying Spock didn't care his mom died?
I missed Comic-Con and the New Star Trek movie! :(((
Ep. "The Creepy Candy Coating Corollary" (3. sez.)
Hele Stuarte, je Wil Wheaton přihlášen do turnaje Tajemných válečníků? Ten Wil Wheaton ze Star Treku?
Jasně, bydlí poblíž. Velký hráč.
Promiňte... Chceš říct, že Wil Wheaton, neboli praporčík Wesley Crusher ze Star Treku Nové generace se zúčastní tvého turnaje?
Omlouvám se, okradl jsem tě o možnost přijít na to sám?
Ne, počkej. Ty mi nerozumíš. Když jsem vyrůstal, Wil Wheaton byl můj idol. Wesley Crusher měl identickou paměť, stejně jako já.
Jaká náhoda. Možná to s ním budeš moci probrat během hraní turnaje. Tady se podepiš.
Byl jsem tak velký fanda, že jsem roku 1995 jel deset hodin autobusem na sci-fi con v Jacksonu v Mississippi, oblečený do své uniformy
kadeta Hvězdné akademie proto, abych se setkal s Wilem Wheatonem a přiměl ho, aby mi podepsal moje balení akční figurky Wesleyho Crushera.
Ach, takže to bude něco jako setkání po letech. Podepiš to.
Má náročná cesta byla ovšem zbytečná. Ačkoli bylo oznámeno, že se ukáže, tak se neukázal.
A v tom okamžiku jsem se zapřisáhl k věčné nenávisti Wila Wheatona.
Dobře, super, tak mu můžeš říct, že ho nenávidíš. Podepiš to.
A také by vás mohlo zajímat, že Wil Wheaton je v současné době na šestém místě mého seznamu nepřátel,
hned mezi režisérem Joelem Schumacherem, který málem zničil licenci filmu Batman,
a Billy Sparksem, který bydlel o ulici níž ode mne, a který mi dával na řidítka od mého kola psí hovínka.
Dobrá, chápu to. Je to padouch. Podepiš to.
Slovy Khana Noonna Singha v nesmrtelném Khanově hněvu, mě vyzývá. Výzývá mě a já ho porazím.
Bezpochyby. Podepiš to.
Z pekla samotného tě probodnu!
Dobrá, Raji, vypadá to, že jsi v týmu se "Zhyň, Wile Wheatone, zhyň".
Hey, Stuart, is the Wil Wheaton signed up for the mystic warlords tournament. The Wil Wheaton from Star Trek?
Yeah, he lives around here. Big gamer.
Excuse me. Are you saying that Wil Wheaton aka Ensign Wesley Crusher on Star Trek: The Next Generation is going to be participating in your tournament?
Oh, I'm sorry, did I rob you of the opportunity to stumble onto that for yourself?
No wait - you don't understand. Growing up, I idolized Wil Wheaton Wesley Crusher had an eidetic memory just like me.
Ooh, what a coincidence. May be you can discuss that with him while you're playing in the tournament. Sign here.
Yeah - I was such a fan that in 1995, I traveled ten hours by bus to a sci-fi convention in Jackson, Mississippi,
wearing my star flee academy cadet uniform in order to meet Wil Wheaton and get him to autograph my mint in-package Wesley Crusher action figure.
Ooh, it'll be like a reunion then. Sign here.
My arduous journey, however, was for naught. Although advertised to appear, he did not show up.
It was at that moment, I vowed eternal hatred for Wil Wheaton.
Okay, great, you can tell him you hate him. Sign here.
It might also interest you to know that Wil Wheaton currently ranks sixth on my all-time enemies list... right between director Joel Schumacher,
who nearly destroyed the Batman movie franchise, and Billy Sparks, who lived down the street from me and put dog poop on the handles of my bicycle.
Okay, I get it. He's a bad guy. Sign here.
In the wooords of Khan Noonien Singh in the immortal wrath of Khan, "he tasks me...". "He tasks me and I shall have him".
No doubt, sign here.
"From hell's heart, I stab at thee".
All right, Raj, looks like you're teamed up with "die, Wil Wheaton, die".
Jen jsem jí řekla, že jsi kosmický inženýr, že mluvíš pěti jazyky.
Šesti, pokud počítáš klingonštinu.
Holky nepočítají klingonštinu, Howarde. Že ne?
Ne!
I just told her you're an aerospace engineer, you speak five languages...
Six, if you count Klingon.
Girls don't count Klingon, Howard. Right?
Right.
Ep. "The Adhesive Duck Deficiency" (3. sez.)
Sheldonův deník, hvězdné datum 63345,3.
Zatímco jsou mí kolegové venku a pozorují meteorický roj Leonidy,
zůstal jsem doma, abych dokončil svou práci na téma Rozpad vysoce excitovaných hmotných módů strun.
Přestože můj výzkum pokračuje dobře, chybí mi teplo lidské společnosti.
Sheldon's log. Star date 63345.3.
While my colleagues are off Observing the Leonid meteor shower,
I have remained behind to complete my paper On the decays of highly excited massive string states.
Although my research is going well I do miss the warmth of human companionship.
Nevybouchne to. Jeď prostě dál. Pane Spocku, warp rychlost!
Pan Spock nepilotoval Enterprise. Byl vědeckým důstojníkem a garantuju ti,
že kdyby někdy viděl blikat světýlko kontroly motoru Enterprise, tak by loď okamžitě zastavil.
Proboha, já přijdu o ruku.
It's not going to explode. Just keep driving. Warp speed ahead, Mr. Spock.
Mr. Spock did not pilot the Enterprise. He was the science officer,
and I guarantee you that If he ever saw the Enterprise's check engine light blinking, He would pull the ship over immediately.
Oh, god, I'm gonna lose the arm.
Ep. "The Bozeman Reaction" (3. sez.)
Jelikož zamýšlíte zůstat v této bezprávé metropolitní oblasti, statistiky naznačují, že než se znovu uvidíme,
podlehnete tragickým a hrozivým koncům. Žijte dlouho a blaze.
Sheldone, to je...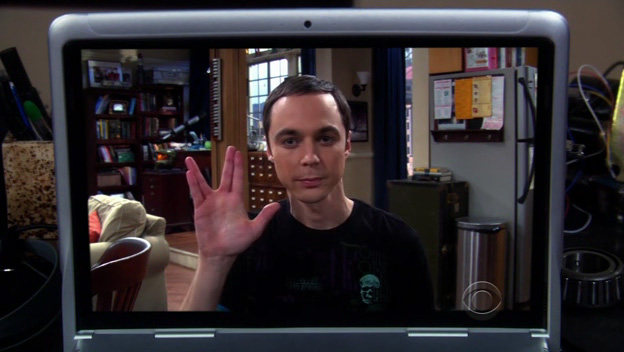 Since you intend to remain in this lawless metropolitan area, statistics suggest that you will succumb to tragic
and gruesome ends before we meet again. Live long and prosper.
Sheldon, that's so...
Ep. "The Excelsior Acquisition" (3. sez.)
Aha, aha, Stan Lee! Skvělé!
Nemáš tušení, kdo to je, že?
Samozřejmě, že mám. Jsi důležitou součástí mého života a zajímám se o věci, které tě zajímají.
Dobře. Dobře. Takže, kdo je Stan Lee?
Hmm... Byl ve Star Treku.
Ne.
Ve Star Wars?
Ne.
Hm... Stan Lee.
Byl v těch potrhlých kung-fu filmech, které máš tak rád?
To je Bruce Lee.
Oh, oh, Stan Lee! Cool!
You have no idea who he is, do you?
Of course I do. You're an important part of my life and I pay attention to the things you are interested in.
Oh, good. Good. So, who's Stan Lee?
Um... he was on Star Trek.
Nope.
Star Wars?
No.
Um... uh, Stan Lee. Ooh, he was in those goofy kung fu movies you love so much?
That's Bruce Lee.
Čau, kde jsi byl?
Řeknu vám, kde jsem byl. Možná jste si dali gelato se Stanem Lee a podepsal vám komiksy,
ale já jsem viděl vnitřek jeho domu a dostal jsem podepsanou žádost o soudní zákaz styku.
Hustý.
A navíc, uvidíme se znovu, u soudního přelíčení. Tohle se bude skvěle vyjímat vedle soudního zákazu styku s Leonardem Nimoyem.
Hey, where've you been?
I'll tell you where I've been. You boys may have had gelato with Stan Lee and gotten autographed comics, but I saw the inside of his house and got an autographed application for a restraining order.
Sweet.
Plus, I get to hang out with him again at the hearing.
This is going to look great hanging next to my restraining order from Leonard Nimoy.
Ep. "The Precious Fragmentation" (3. sez.)
Tady je Spockova hlava bez těla.
A tady tělo Mr. T bez hlavy.
A tady máme Spockovo tělo s hlavou Mr. T.
Lituji hlupáka, jenž není logický.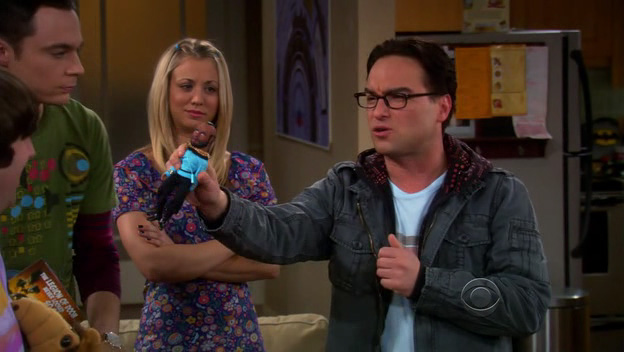 Here's Spock's head with no body.
Here's Mr. T's body with no head.
Oh, yeah, here's Spock's body with Mr. T's head.
I pity the fool who's illogical.
Poslyšte, díval jsem se na ten prsten a zdál se mi trochu divný. Není na něm copyright.
Tak jsem ho vzal k týpkovi, který má co do činění řekněme... se zpustlým podsvětím sběratelského světa.
Zpustlým podsvětím?
Však víte, vaše phasery z černého trhu, vaše kalhotky, co měla poručík Uhura a podobné věci.
A kdo je ten tvůj záhadný a nečekaný známý?
Jen jeden týpek. Prostě ho znám.
Je to Eddie Crispo?
Nemůžu vám říct, kdo to je. Už se neptej.
Listen, I was looking at the ring, and it seemed a little weird. No copyright notice on it.
So, I took it down to this buddy of mine who deals with shall we say the seedy underbelly of the collectibles world.
Seedy underbelly?
You know, your black market phasers, your screen-worn Lieutenant Uhura panties, that kind of stuff.
Who's this mysterious buddy you suddenly have?
Just a guy. I know a guy.
Is it Eddie Crispo?
No, I can't tell you who it is. Stop asking.
Ep. "The Pants Alternative" (3. sez.)
Takže když mají v Avataru na Pandoře sex, spojí své copy, takže víme, že copy jsou jejich nádobíčko.
Jo. A?
No a když jedou na koni nebo letí na ptákovi, taky používají copy.
Co tím chceš říct?
To, že kdybych byl kůň nebo pták, byl bych poblíž Jamese Camerona velmi nervózní.
Udivuje mě, jak jste pořád posedlí detaily ve smyšlených světech, zatímco v tom skutečném existují důležitější věci, kterých je třeba se obávat.
Například, proč nehrál William Shatner v novém Star Trek filmu?
Ahoj, Sheldone. Byl jsem nahoře v kanceláři rektora a zaslechl jsem jméno toho, kdo získá letošní Rektorovu vědeckou cenu.
A chceš se pobavit na můj účet kvůli tomu, že mé zásluhy byly opět přehlédnuty? Jsem Williamem Shatnerem teoretické fyziky.
No dobře, nechám se podat. Kterého sebestředného úlisného šarlatána oslavují letos?
Těší mě, že ses zeptal takhle. Tebe.
Já vyhrál?
Ano, ty.
Já vyhrál! Jak překvapivé. Ne to, že dostanu tu cenu... nikdo si ji nezaslouží víc. Řekl jsem to špatně. Není to ani tak překvapivé, jako spíš nevyhnutelné
Nevím, co udělat nejdřív. Možná bych měl zavolat matce. Počkat! Už vím... Natočím se sebou rozhovor a dám ho na internet.
Hmm, to má dobré.
Jasně, jedinou věcí, kterou William Shatner teoretické fyziky potřeboval, bylo povzbudit jeho sebevědomí.
Okay in Avatar when they gave sex in Pandora they hook up their ponytails, so we know their ponytails are like their junk.
Yeah... so?
So, when they ride horses and fly on the birds, they also use their ponytails.
What's your point?
My point is, if I were a horse or a bird, I'd be very nervous around James Cameron.
It amazes me how you constantly obsess over fictional details when there are more important things in the real world to worry about.
For example, why wasn't William Shatner in the new Star Trek movie?
Hey, Sheldon. I was up in the administration office, and I happened to overhear the name of the winner of this year's Chancellor's Award for Science.
And you want to rub my nose in the fact that my contributions are being overlooked again? I am the William Shatner of theoretical physics.
All right, I'll play. What self-important, preening fraud are they honoring this year?
Oh, I'm so glad you asked it like that. You.
I won?
You won.
I won! This is astonishing. Not that I won the award no one deserves it more. Actually, I guess I misspoke.
It's not astonishing; more like inevitable. I'm not sure what to do first. Maybe I should call my mother.
Wait! I know. I'm going to conduct an interview with myself and post it online.
Well, good for him.
Yeah, the one thing the William Shatner of theoretical physics needed was an ego boost.
Ep. "The Wheaton Recurrence" (3. sez.)
Hele, jen jsem ti chtěl říct, že jsem tvůj velký fanoušek.
Ale, děkuji.
Jsem si jistý, že už máš dost otázek ohledně Star Treku, ale dělali jste to někdy s Whoopi Goldberg?
Hey, I just wanted to tell you. I'm a big fan.
Oh, thanks.
I'm sure you're probably sick of Star Trek questions, but Whoopi Goldberg you ever hit that?
Prosím o pozornost všech bowlařů. Dovolil jsem si nechat vyrobit tyto dresy pro naši odvetu.
The Wesley Crushers?
Ne. Ne The Wesley Crushers. The Wesley Crushers.
Nechápu.
Wesley Crusher bylo jméno postavy Wila Wheatona ve Star Treku.
Pořád to nechápu.
Je to zcela jasná slovní hříčka. Přivlastněním si jména postavy a přidáním S nakonec naznačujeme, že rozdrtíme Wesleyho. /crushers = drtiče/
Dobře, promiň, zlato, ale The Wesley Crushers zní jako skupina lidí, co má ráda Wesleyho Crushera.
Ne, znovu. Není to The Wesley Crushers. Je to The Wesley Crushers.
No, pokud myslíš význam, kdy drtíš Wesleyho, tak by to bylo The Wesley Crushers.
Posloucháte se vůbec? Není to The Wesley Crushers, není to ani The Wesley Crushers, je to The Wesley Crushers.
Hej, podívejte. Pojmenovali po mně svůj tým.
Ne, to není... To je jedno.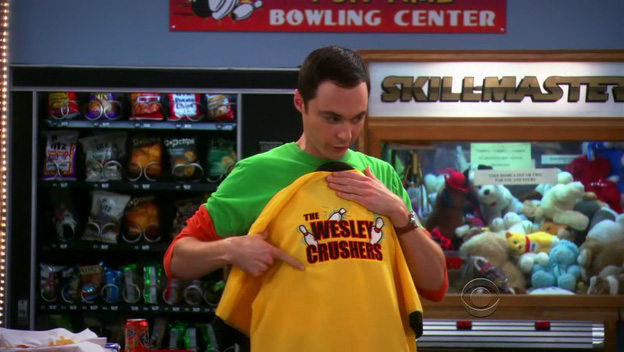 Attention, all bowlers: I've taken the liberty of having these made for our rematch.
"The Wesley Crushers"?
No, not The Wesley Crushers. The Wesley Crushers.
I don't get it.
Wesley Crusher was Wil Wheaton's character on Star Trek.
Still don't get it.
It's a blindingly clever play on words. By appropriating his character's name and adding the S, we imply that we we'll be the crushers of Wesley.
Okay, I'm sorry, honey, but The Wesley Crushers sounds like a bunch of people who like Wesley Crusher.
No! Again, it's not the Wesley Crushers. It's the Wesley Crushers.
No, if you want it to mean you're crushing Wesley, it'd be the Wesley Crushers.
Do you people even hear yourselves? It's not The Wesley Crushers. It's not The Wesley Crushers. It's The Wesley Crushers.
Hey, look. They named their team after me.
No, it's not the... Never mind.
Jo!
Užij si uctívače, dokud můžeš, Wile Wheatone, protože stejně jako ve Star Treku Nové generaci tvoje nakoukaná sebesatisfakce bude mít krátkého trvání.
Yes!
Enjoy the accolades now, Wil Wheaton, but like your time on Star Trek: Next Generation, your smug self-satisfaction will be short-lived.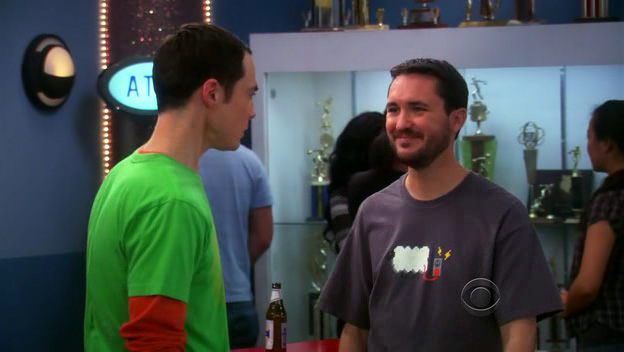 Tos udělal ty, že?
Vážně si myslíš, že bych způsobil rozchod jen kvůli výhře v bowlingu?
Ne, to asi ne.
Dobře. Mysli si to dál.
Wheatone!!!
You did this, didn't you?
Do you think I would really break up a couple just to win a bowling match?
No, I suppose not.
Good. Keep thinking that.
Whea-ton!
Ep. "The Plimpton Stimulation" (3. sez.)
Takže, ukážu ti některé vlastnosti pokoje. Zaprvé, okna. Tradiční. Otevřené, zavřené. Otevřené, zavřené.
Napůl otevřené. Nebo napůl zavřené, to záleží na tvém fylozofickém názoru. Tady je moje sbírka komiksů.
Klidně si je prolistuj. Tady je krabice jednorázových rukavic na čtení na jednu noc.
Dobře, že to vím.
Tady najdeš nouzové zásoby. Osmi-denní zásoba jídla a vody, kuše, druhá série Původní série Star Treku na velkokapacitním flash disku.
Co když nastane katastrofa, která zničí všechny USB porty?
Tak to pak nebude žádný důvod žít, ne?
All right, let me show you some of the features of the room. First, windows. Conventional. Open, closed. Open, closed.
Halfway open. Or halfway closed, depending on your philosophical bent. Over here is my comic book collection.
Feel free to browse. There's a box of disposable reading gloves on the night stand.
Good to know.
In here, you'll find emergency provisions. An eight-day supply of food and water, a crossbow, season two of Star Trek: The Original Series on a high-density flash drive.
What if there's a disaster that destroys all the USB ports?
Then there's really no reason to live, is there?
Ep. "The Staircase Implementation" (3. sez.)
Jaký je šestý vzácný plyn?
Cože?
Říkal jsi, že jsi vědec. Jaký je šestý vzácný plyn?
No, radon?
To se mě ptáš nebo mi to říkáš?
Říkám ti to? Říkám ti to.
Dobře, další otázka. Kirk nebo Picard?
Oh, uh, no, to je ošemetné. Hm, Původní série před Novou generací, ale Picard po Kirkovi.
Správně. Prošel jsi první zkouškou pro nové spolubydlící. Můžeš vstoupit.
What is the sixth noble gas?
What?
You said you're a scientist. What is the sixth noble gas?
Uh, radon?
Are you asking me or telling me?
Telling you? Telling you.
All right, next question. Kirk or Picard?
Oh, uh, well, that's tricky. Um, Original Series over Next Generation, but Picard over Kirk.
Correct. You've passed the first barrier to roommate-hood. You may enter.
Ep. "The Lunar Excitation" (3. sez.)
Dobře, a co takhle. Dokonce i Spock měl jednou za sedm let rande.
To nebylo rande. Byl to pon farr. Jeho krev se vařila touhou pářit se.
No, proč teda nezačneš šálkem kávy a později můžeš zakusit pon farr s Amy Farrah Fowler.
Já nepiji kávu.
Dobře, můžeš si dát horkou čokoládu.
Nebudu se zapojovat do toho nesmyslu, že můj výběr nápoje je nahodilý. Ale pro zajímavost, horkou čokoládu piju jenom v měsících ve kterých je "R".
Okay, how about this. Even Spock had a date once every seven years.
He didn't date. It was pon farr. His blood boiled with mating lust.
Well, why-why don't you start with a cup of coffee, and you can pon farr Amy Farrah Fowler later.
I don't drink coffee.
All right, you can have a hot chocolate.
As I will not be engaging in this nonsense, my choice of beverage is moot. But for the record, I only drink hot chocolate in months with an "R" in them.
---